Purple Reign is here and available at TopSpot Whittier. Purple Reign is an indica dominant
hybrid crossed with RECON OG and ROYAL PURPLE KUSH. This flavorful strain comes with
happy and relaxed side effects, making this indica dominant hybrid a cant miss strain. Try it out
today at TopSpot Whittier!
Calling all gummy lovers! If youre one who loves to take edible gummies we have a new product
for you! West Coast Cure now has solventless gummies, handcrafted with dabbable full-melt
live ice water hash. These vegan-friendly, full-spectrum gummies are released in small batches
to give you a multidimensional experience built around each specific strain to let the terpenes
sing.Try them out today only at TopSpot Whittier.
Plug n Play has released a new product and we have it available here at TopSpot Whittier. 1
gram smooth disposables that takes the disposable game to the next level. If you love plug n
play make sure to check out this new product in the flavor of sunset sherbet and be one of the
first to experience the new way to Play.
FKEM 2 gram disposables are now available at TopSpot Whittier! FKEM works with premium cannabis distillate and tasty flavors to make sure you get the best quality disposable with the best tastes! FKEM concentrates are available in various flavors like Man On The Moon, Brain Berry Cough, Banana Bites and etc. With so many delicious choices, the only question left is: Which one will you have? Available at TopSpot Whittier.
Wedding Cake is now available at TopSpot Whittier. This strain is one of the most popular and well known indica dominant hybrid stain to date. Crossed between animal mints and triangle kush, this strain is tailored to help with anxiety and depression. Make sure to pick some up while we have it, only at TopSpot Whittier.
Now available at TopSpot Whittier! Faded Farms disposables. 1 gram Live Resin disposables available in sativa, hybrid, and indica. These are new and sleek, rechargeable disposables that are sure to take your vape game to the next level. Make sure to ask your budtender about one on your next visit in!
Dead Pres OG is now available at TopSpot Whittier. Enjoy one of the heaviest indicas today while supplies last. Sure to soothe anxiety, this indica strain is one to help you relax and enjoy. A smooth gassy aroma, lets you know this strain is must have for any serious smoker. Expect a heavy indica effect and an overall pleasurable ride.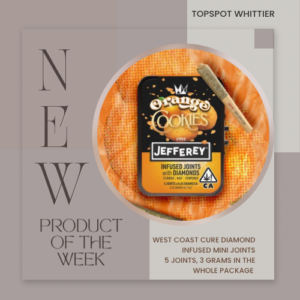 Now available at TopSpot Whittier, West Coast Cure Jeffrey Joints. This is a 5 pack of mini liquid diamond infused pre rolls. Curated by West Coast Cure, these joints are next level. Packed with whole nug flower, live resin diamonds and kief, see why West Coast Cure is one of the best brands in California.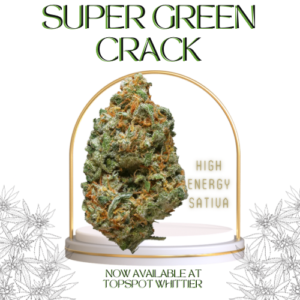 Super Green Crack is a true sativa that's now available at TooSpot Whittier! This high energy sativa will have you feeling like you just indulged in a fresh cup of the works finest coffee. Cross strained between Super Silver Haze and Green Crack, this strain is known to help with fatigue and depression. Come pick up this uplifting strain today at TopSpot Whittier while it's here, just in time for the spring time.
Try new LIMITED EDITION Sauce 1 gram Live reserve exclusively at TopSpot Whittier! 6 NEW flavors that are only around for a limited time! Combine the best strains and flavors and find your new Sauce pen! Available in 1 gram and they won't be around for long! Hurry in and try one today!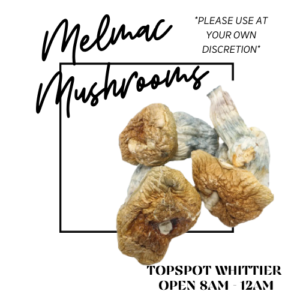 MELMAC MUSHROOMS are now available atTopSpot Whittier! Have you ever wanted to experience raw mushrooms and explore your mind? "Magic mushrooms" are mushrooms that contain hallucinogens – usually psilocybin and psilocin.The Melmac strain produces a psychedelic trip: a mind-altering experience that changes your perception of space, time, and sense of self. Feelings of nausea, anxiety, discomfort, and distress can accompany a psychedelic experience—factors that are made worse in uncomfortable environments so use at your own discretion! Inquire today about magic mushrooms, only at TopSpot Whittier!
Ice cream cake is now available at Topspot Whittier! Ice Cream Cake is an indica marijuana strain made by crossing Wedding Cake with Gelato #33. This strain offers sedating effects that leave your mind and body completely relaxed. Ice Cream Cake features a creamy flavor profile with sweet hints of vanilla and sugary dough. Try it out today and see what the hype is about.
Introducing CLOWN pre rolls at Topspot Whittier.Crafted by Slipknot co-founder Shawn "Clown" Crahan, these pre rolls are lab tested at 40%+ THC level. Equipped with a match and strike for smoking convenience, these pre rolls are sure to take you to the next level. Try one at Topspot Whittier today.
DIME 1 GRAM cartridges are now available at TopSpot Whittier! These are a 710 based cartridge that focuses on creating the ultimate vaping experience. Each one of these vapes are infused with high terpene extracts and liquid diamonds. Make sure to pick one up today and check out the variety of flavor and strains offered.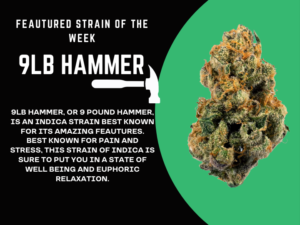 9LB Hammer is a classic indica strain offering you all the best properties and indica strain has to offer. 9 Pound Hammer is a heavy-hitting indica with a patchwork genetic background. It is a three-way cross between Jack Hells Angel and Gooberry. It has great relaxing properties and is known for relieving pain and anxiety. Try some of this strain out this week while its available.
AVAILABLE NOW AT TOPSPOT WHITTIER!POLKADOT 4GRAM MUSHROOM BELGIAN CHOCOLATES. Discover a variety of flavors and take a trip with these chocolate bars. One of the first mushroom chocolate brands, dive into one and explore your inner self. Show this and take 20% off your first polkadot bar today!
Sauce disposables are now available at Topspot Whittier! Sauce is a CA based brand that is up and coming, ready to steal the show. From over 10 different flavors to choose from, Sauce is available in 1g and 2g disposables. Rechargeable and discreet, Sauce is sure to become your new go-to brand.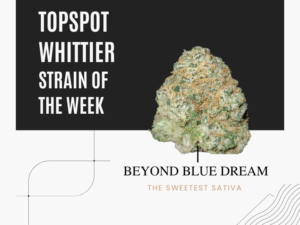 Beyond Blue Dream is a sativa that you cannot miss! The rare, balanced strain (50/50) known as Beyond Blue Dream was made from a combination of two mainstays: Super Silver Haze and Blue Dream. It has a mid-high potency (testing around 23% THC on average) and has a strong herbal, fruity scent, that smacks you in the face with pungency. Make sure you check out strain of the week today!
AVAILABLE NOW AT TOPSPOT WHITTIER! First time patient or referral patient enjoys 20% off of one. Show this ad on Google for $5 off! We now carry the line of WEST COAST CURE COLD CURE ROSIN. Rosin that's pressed in temperature below 70 presenting a creamy color rosin that's sure to elevate your mind.
AVAILABLE NOW AT TOPSPOT WHITTIER! First time patient or referral patient enjoys 20% off of one. Show this ad on Google for $5 off! The 1g Jeeter features a gram of Jeeter's locally sourced premium cannabis flower. This joint comes in regular form, and two different infused formats: infused with distillate, or infused with distillate and kief. The infused forms can burn for as long as 15 minutes, making them great for enjoying with friends!
WHITE RECLUSE
Now introducing white recluse, Combining the best badder, with the best CBD, and even the best Raw® papers, to make a preroll that's like nothing else on the market. The first time you see our product, you'll notice the CBD crystal coating. The first time you taste it, you'll feel instant satisfaction. Available in many strains in indica, Sativa, and hybrid! This week only, enjoy white recluse buy one get one half off!
MAGIC KINGDOM
Now introducing Magic Kingdom shroom candies. Available in a package of 4G gummies or in a chocolate bar totaling 4G. Each individual piece is .5G making this product extremely easy and accurate to dose. All magic kingdom products will be buy one get one 50% off all week long!